udonmap.com
Posts: 1135
Joined: December 5, 2018, 5:51 pm
Location: Performing handbrake turns & wheelspins near Nong Na Kham
I think they're great but here's hoping for an influx of the usual opinions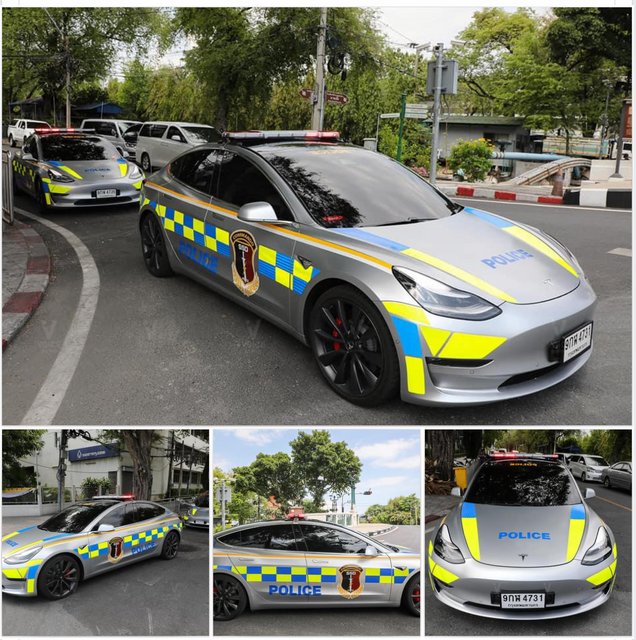 ---
udonmap.com
Posts: 6087
Joined: October 14, 2013, 4:39 pm
Saw one ov them.today on hw 24 near Nang Rong .. had to do a head swivel didnt know what it was at first ..

Push button water cannon .. ejector seat n machine guns optional

Dm
---
udonmap.com
Posts: 12091
Joined: July 2, 2006, 5:29 pm
So what are they?
Are they an upgrade on the eBMW's - which I am sure came with a highly inflated price tag.

---
udonmap.com
Posts: 1135
Joined: December 5, 2018, 5:51 pm
Location: Performing handbrake turns & wheelspins near Nong Na Kham
Shhh, just between me & you but I heard a rumour they have a little rack for alcohol positive blood test phials so they can bring in sober drivers
---
Teslas???!!!

I wonder if the batteries will last as long as all those expensive Segways the cops bought. Mate of mine was a Tourist Police Volunteer in Pattaya and they had a couple given to them to zip around Walking Street but they kept being borrowed by "real police" at the weekend. After they broke one, the batteries died in the other one (nobody could be arsed to charge them properly) and they both mysteriously disappeared when they relocated their office.
---
udonmap.com
Posts: 12091
Joined: July 2, 2006, 5:29 pm
Looks like it - lack of front air intake is a hint. Supported by these photos of the Model 3.
https://evchargeplus.com/ev-specificati ... rformance/
Talk about a big quid to be made.

---
Now they can practise sneaking up on people
---