https://justthenews.com/accountability/ ... nder-warns
Wikipedia has become a one-sided 'thought police' for liberals, cofounder warns
Larry Sanger laments overwhelming sourcing to "globalist, progressive mainstream sources" and says site has become "an opponent of vigorous democracy."
* * *
https://www.waynedupree.com/2021/07/wok ... ing-karma/
"Woke" Companies Across America Just Got Blasted With an Uncomfy Truth Bomb
And that's where we are with corporations – they're the new "leftist host," and the mob has taken over the PR/marketing departments of America's biggest corporations and they're now pushing the same SJW garbage that got Hollywood and sports in trouble…and as with everything the left touches, this host will also wither away and die.

And by the looks of this recent poll, it's probably going to happen sooner than later.

The new poll was put out by NPR/Maris and it asked a very simple question: Do you support or oppose American companies using their public role, position, or events to influence political, cultural, or social change?

And the response says it all (although, I personally believe the "oppose" number is actually much, much higher):

Support 36%

Oppose 57%
money talks .
* * *
https://conservativebrief.com/capitol-aides-44425/
Poll: Three-Quarters of Capitol Hill Aides Believe GOP Will Flip House
* * *
https://pjmedia.com/columns/kevindowney ... s-n1459565
The Truth About White Supremacy Groups
Data?
The Anti-Defamation League (ADL) and the FBI agree the Klan is dying. Their numbers have been dwindling for decades. Though certainly abhorrent, they are the toothless boogeymen of white supremacy. Yet the ADL can't let white supremacy go. They reported 16 shoot-outs between police and extremist groups in 2020, though only six of them involved "white supremacists." Oddly, none of the cops shot at last years' George Floyd riots were mentioned. Nor was there a mention of the 2,000 cops injured in the first two months of rioting alone. There are New York police officers still recovering at home today due to injuries they received during last year's riots.

Conspicuously absent from almost every report on "domestic terrorism" are the words "Antifa" and "Black Lives Matter." Not surprising considering Jerry Nadler called Antifa "a myth" and Gropey Joe Biden said they were "an idea." BLM, of course, can't be blamed for anything, despite the 40+ people killed during the George Floyd riots of 2020, including an eight-year-old girl who was shot after armed protestors were allowed to roam the streets of Atlanta.

Hush Little Leftist Don't You Cry
Media silence on black or Antifa crimes isn't new. We saw anti-Asian stories on a daily basis until we started to see the videos of the attackers. Did the violence against Asians suddenly stop? No, it's still happening but the news won't discuss racial violence unless there is a redneck or a "Karen" involved. Some things just don't make the news as often. How much did you hear about the 11 heavily armed Moors and their nine-hour stand-off with cops this weekend?
* * *
https://amgreatness.com/2021/07/05/20-q ... january-6/
20 Questions for Nancy Pelosi About January 6
To start, Pelosi's commission should demand the release of the 14,000 hours of USCP surveillance footage the government wants to keep secret. Americans need to see minute-by-minute what unfolded on January 6. The commission should also demand to see all the materials related to the now-closed investigation into the killing of Ashli Babbitt. The full autopsy results for Babbitt, Sicknick, Roseanne Boyland, Kevin Greeson, and Benjamin Phillips should be made public; ditto for autopsy reports on the two police officers who allegedly committed suicide.

Additionally, here are just a few questions Pelosi's inquisition should answer:

1) Why were requests made by USCP, a federal agency under the purview of Congress, for extra security ahead of January 6 denied?

2) Why did law enforcement including USCP and D.C. Metro Police show up wearing full riot gear including gas masks and batons?

3) Who authorized police to attack the peaceful crowd with flashbangs, sting balls, and tear gas around 1:00 p.m.?

4) Have any police officers been charged with assault?

5) Who seeded the lie that Brian Sicknick was killed in the line of duty and who told the New York Times he was murdered by a Trump mob with a fire extinguisher?

6) Did any FBI agents or informants infiltrate groups such as the Proud Boys, Oath Keepers, and Three Percenters before January 6?

7) Who were the officers caught on tape allowing protesters into the building?

8 Who opened the doors on the upper west terrace at approximately 2:30 p.m. at the direction of an unknown USCP officer?

9) How much damage did the building sustain? The architect of the Capitol originally claimed $30 million in damages. But in court filings, the government claims the building only sustained about $1.5 million in damages.

10) On January 7, Pelosi called the Capitol riot an "armed insurrection?" How many people have been charged with carrying a firearm into the building?

11) Why was Pelosi's son-in-law reporting from the scene that day?

12) How many Americans have been charged with sedition?

13) How many Americans remain incarcerated under pre-trial detention orders awaiting delayed trials that won't start until next year?

14) Who authorized the opening of the "pod" in the D.C. Correctional Treatment Facility jail to house January 6 defendants specifically?

15) Are there reports of mental and physical abuse of January 6 detainees by D.C. prison guards, including solitary confinement conditions for months on end and lack of access to defense lawyers?

16) How much money is being spent on the various investigations into January 6?

17) Should social media companies including Facebook and Twitter be criminally charged for allowing protesters to organize the "insurrection" on their platforms?

18) Who are the anonymous "proud members of the United State Capitol Police" threatening to withhold security from members of Congress who did not support a commission?

19) How many "white supremacists" have been identified by law enforcement?

20) Who shot and killed Ashli Babbitt?

It's unlikely, of course, that Pelosi's truth-seeking mission will result in anything more than reheated political spin, recriminations, and fuel for nonstop media attention. But Americans, and Republican leaders including Donald Trump, should keep asking legitimate questions and demanding truthful answers.
* * *
https://www.frontpagemag.com/fpm/2021/0 ... -horowitz/
Ami Horowitz Video: Inside Black Lives Matter - A BLM Expose
* * *
https://100percentfedup.com/andy-ngo-bu ... paratists/
Andy Ngô Busts Dishonest Media: Asks Why Media Used Photos Of White Men Wearing Confederate Badges In MA Stand-Off When Militiamen Were Black Racial Separatists?
Kudos to Andy Ngô for discovering the obvious deceit by the Jerusalem Post, who dishonestly tried to trick their readers into believing the militia involved in the Boston neighborhood standoff was a bunch of white, racist guys with guns.

Ngô also posted actual photos of the black members of the militia involved in the standoff in a tweet:

Why did you use a photo of white men wearing confederate badges for this report when the militiamen involved in this Massachusetts stand-off incident are black and identify with a racial separatist group?

https://t.co/F1s9kJCCcV

pic.twitter.com/LzhLDZ44YN

— Andy Ngô (@MrAndyNgo) July 3, 2021
* * *
https://www.thegatewaypundit.com/2021/0 ... ase-money/
IT BEGINS: Banks Now Dictating What Customers Are Permitted to Purchase with Their Own Money
Are banks threatened by cryptocurrencies or are they thinking of your best interest when they prevent you from trading in cryptocurrencies? If they can do this, what's next?
* * *
https://www.frontpagemag.com/fpm/2021/0 ... llingsley/
New Anti-Terrorism Strategy 'Narrowly Tailored' to Target the Right
* * *
https://sanfrancisco.cbslocal.com/2021/ ... -violence/
Oakland Streets Erupt Into '12 Hours Of Non-Stop Chaos'; Homicides, Shootings, Sideshow Violence
California is on its own .
* * *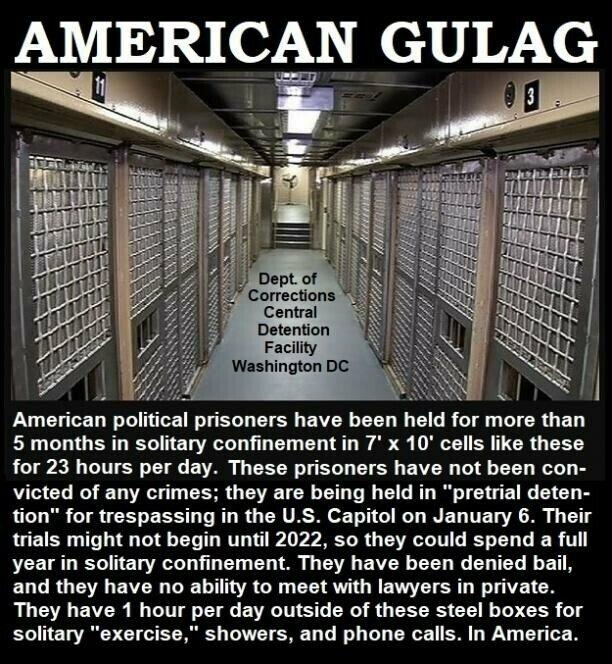 if it was ok for Ashli Babbitt to be shot and killed for breaking the law why was it not ok for George Floyd to be killed for breaking the law ?
* * *